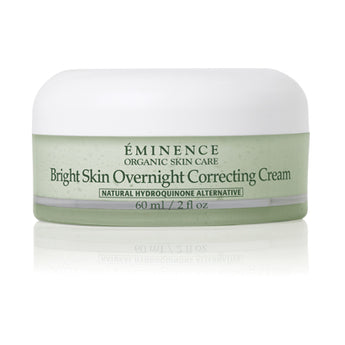 Bright Skin Overnight Correcting Cream Eminence 2 fl oz
Regular price $77.00 Sale
Bright Skin Overnight Correcting Cream
Vegan 

*

 Nut Free 

*

 Gluten Free

Brighten skin with this ultra-rich moisturizer formulated to address the look of hyperpigmentation while you sleep. It delivers potent actives that visibly reduce the look of age and dark spots for a luminous complexion. In combination with a Natural Hydroquinone Alternative, these actives create our most powerful skin brightening botanical blend to date.

How to Use:
Apply a layer over the entire face and neck area and leave on. For a lighter application, mix a small amount of product in your hand with a few drops of water. For extra hydration, apply a thicker layer in dry areas.

Use with the complete Eminence Organics VitaSkin™ Bright Skin Collection range, including Eminence Organics Bright Skin Moisturizer SPF 30 during the day, to achieve even greater results.

Key Ingredients
Natural Hydroquinone Alternative: Brighten skin with African potato and tara tree. Aids in fading the look of age spots and freckles while promoting a smooth, even complexion.
Swiss Alpine Plant Extracts: Skin brightener. Targets the appearance of melanin.
Punarnava Root Extract: Evens skin tone, and reduces the look of various types of dark spots
Stone Crop: Brightens and moisturizes the skin.
Licorice Root Extract: Brightens the appearance of skin
Bearberry Extract: Targets the look of hyperpigmentation
Shea Butter: Moisturizing. High in triglycerides.