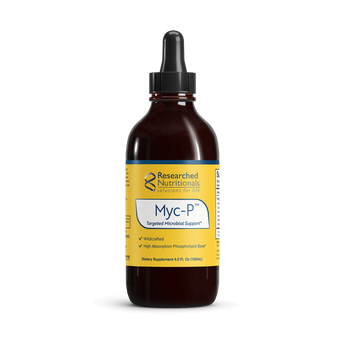 Myc-P Researched Nutritionals 4.0 fl oz
Regular price $79.98 Sale
Myc-P™
Myc-P™ was formulated to target atypical and difficult microbial issues. A combination of synergistic herbs was used to strengthen its effectiveness. Supportive herbs for the immune and detoxification systems were also added to aid the body's healing process.  Non-soy phospholipids form the base of the tincture to increase the absorption and delivery of herbs to the tissues. Myc-P™ may be used with other microbial support tinctures or prescriptions for additional microbial support.
Microbial Support - the layering effect*
The body's internal terrain is composed of millions of microbes; many have a positive influence on the body, while other pathogenic microbes adversely impact and degrade health. Maintaining a robust microbial balance is essential for optimal health.
When a patient is facing serious health challenges that are influenced by pathogens, the doctor may prescribe antibiotic therapy. However, prescription antimicrobials are not always tolerated or effective as a single therapy to achieve optimal health recovery. Many doctors find that nutritional support in the form of herbal microbial balancers may potentiate traditional antibiotic therapy. This "layering" strategy often provides the most comprehensive and synergistic outcomes versus a single therapeutic approach.
Features & Benefits
Balanced Organ Support – developed to promote healthy multi-organ function
Peak Absorption – phospholipid delivery complex for maximum nutrient absorption
Superior Herbal Extraction Process

 

– organic cane alcohol is the preferred extraction process for alkaloid-containing roots & barks