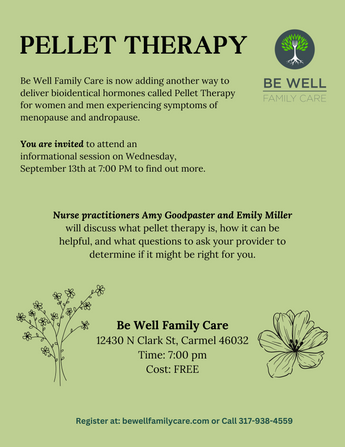 Pellet Therapy Informational Session
Pellet Therapy

Be Well Family Care is now adding another way to deliver bioidentical hormones called Pellet Therapy for women and men experiencing symptoms of menopause and andropause.
You are invited to attend an informational session on Wednesday, September 13th at 7:00 PM to find out more.
Nurse practitioners Amy Goodpaster and Emily Miller will discuss what pellet therapy is, how it can be helpful, and what questions to ask your provider to determine if it might be right for you.

What is pellet therapy?
Pellets are another way to deliver bioidentical hormone replacement therapy. 

Pellets mimic the way the body naturally produces hormones prior to hormone deficiency. 

Pellets avoid the roller coaster effect of some methods of hormone delivery. 
How are pellets inserted?
After numbing the skin with a local anesthetic, the pellets are inserted in the upper buttock area through a tiny incision. 

Procedure takes about 10-20 minutes.

Pellets are inserted every 3-4 months for women & 4-6 months for men. 
The info session is FREE and open to non-patients.